At N H Maintenance we provide Patient Handling Equipment servicing, maintenance and LOLER certification in the care sector. As a customer-focused team we love to listen to our client's needs, and continuously work to minimise disruption, simplify compliance and maximise safety in the establishments that we support.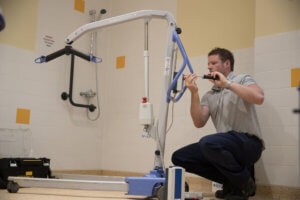 Our new website is our latest step forward, which is now mobile friendly so looks great on all desktop and mobile devices. Find out more about our services and "What makes us different", and visit our new Online Shop for a huge range of spare parts for your medical equipment.
We are also sharing helpful hints and tips about Patient Handling Equipment servicing and maintenance on Facebook, Twitter and LinkedIn – be sure to follow us to keep up to date!
We can help you with Patient Handling Equipment servicing!
Our core business is patient handling equipment servicing and LOLER Inspections – such as hoists, slings, baths, weighing scales and profiling beds – and of course the back-up of call-outs and repairs on these items, but we also have many other services to offer that you may not know about, such as:
Loan medical equipment
Specialist equipment storage
Pressure mattress decontamination and repairs
Supply of refurbished equipment (such as baths and hoists)
Equipment installation/relocation services
We are glad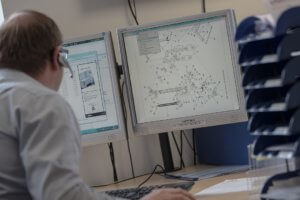 to support you in supplying medical spare parts, and our Technical Support Team is available to offer advice over the phone, to help you to reduce call-outs and identify spare parts you require.
We support a vast range of medical equipment brands, such as: Vermeiren, ArjoHuntleigh, Invacare, Oxford Hoists, Joerns, Sunrise, Handicare, Novacare, Carilex, Sidhil, Drive Medical, Parkhouse, Apex Medical, Dewert, Linak, Limoss, Burmeier, and many more.
Where do we go from here?
With our culture of continuous improvement, there are many exciting prospects on the horizon! Work is currently underway on a new system which will incorporate all areas of our company and further streamline our processes, and in the meantime we are continuing to grow our fantastic team as demands for our services increase.
We will continue to update and improve our online parts shop, and will be regularly sharing technical knowledge and unbiased advice on Social Media, so make sure you follow us!
Keep in touch with us!
Join us on our journey and get helpful hints and tips about Patient Handling Equipment servicing and maintenance by following us on Social Media:
Or to contact us please email sales@nhmaintenance.com or call 01444 250350
Did you know…? Under the PUWER 1998 Regulations, employers are responsible to ensure that all patient handling equipment is safe for patients and users, including pressure care mattress systems and profiling beds? CQC are also advocating that these items are regularly serviced, so this could also help you achieving an "Outstanding" rating! Contact us for more information on these services.